Medical Ultrasound (Sonography) BSc
Start date

September 2024

Delivery type

On campus

Duration

3 years full time

Work placement

Mandatory

Typical A-level offer

BBB (specific subject requirements)

Typical Access to Leeds offer

Accredited

Yes
Course overview
At the heart of modern healthcare, sonography is an essential diagnostic tool. Our research-led Medical Ultrasound (Sonography) course will give you the skills required to work as a general sonographer in clinical practice, although you'll develop skills for a career outside healthcare as well.
You'll receive comprehensive training in both technical knowledge and professional skills, and gain an understanding of medical ultrasound's scientific, technical and professional concepts. Our course has a strong focus on practical abilities, improving your motor skills and decision-making whilst helping you respond to the different needs of your patients.
Quality placement opportunities and diverse employment prospects make this course an ideal choice if you're interested in pursuing this branch of medicine. It's suitable for local, national and international applicants looking to become highly competent practitioners.
Since 1995 the University of Leeds has delivered a well-established postgraduate Diagnostic Imaging (Medical Ultrasound) course with an excellent national reputation. This expertise in delivering postgraduate Medical Ultrasound education will be utilised when you study our BSc (Hons) Medical Ultrasound (Sonography).
• You will be introduced to clinical environments from the first semester of your course via the ultrasound suite and clinical skills room based at a local Leeds hospital. Students will be able to scan and report on examinations undertaken on real patients in a teaching environment.
• The clinical/theory ratio is approximately a 50:50 split, giving you considerable time on clinical placement and valuable hands-on experience.
• Set in a fast-paced and dynamic working environment, clinical placements are undertaken within departments across the Yorkshire and Humber region and beyond in both small and large hospitals.
• You will undertake a research project in your final year to develop your evaluation skills and your ability to question practice.
• You will complete a portfolio using PebblePad each year to develop your reflective writing skills and prepare you for continuing professional development (CPD) when you are a fully qualified sonographer.
• Many of our students have presented their research at conferences or have published in professional journals supported by the teaching team.
• The core Medical Ultrasound teaching team are registered sonographers with decades of combined experience and expertise across a range of specialties, and many of them are Leeds graduates.
Facilities
We have a dedicated simulation suite on campus with the Worsley Building, as well as other facilities at a local Leeds hospital. Each houses various resources and pieces of ultrasound equipment, which our students can use to enhance their learning. Examples include:
the ScanTrainer® simulation system

six Bodyworks Eve simulation systems

an ultrasound machine

simulated patients

a library of real clinical cases
Accreditation
Accredited by the Consortium for the Accreditation of Sonographic Education
This course is accredited by the Consortium for the Accreditation for Sonographic Education (CASE) for the period from August 2023 to August 2028.
Course details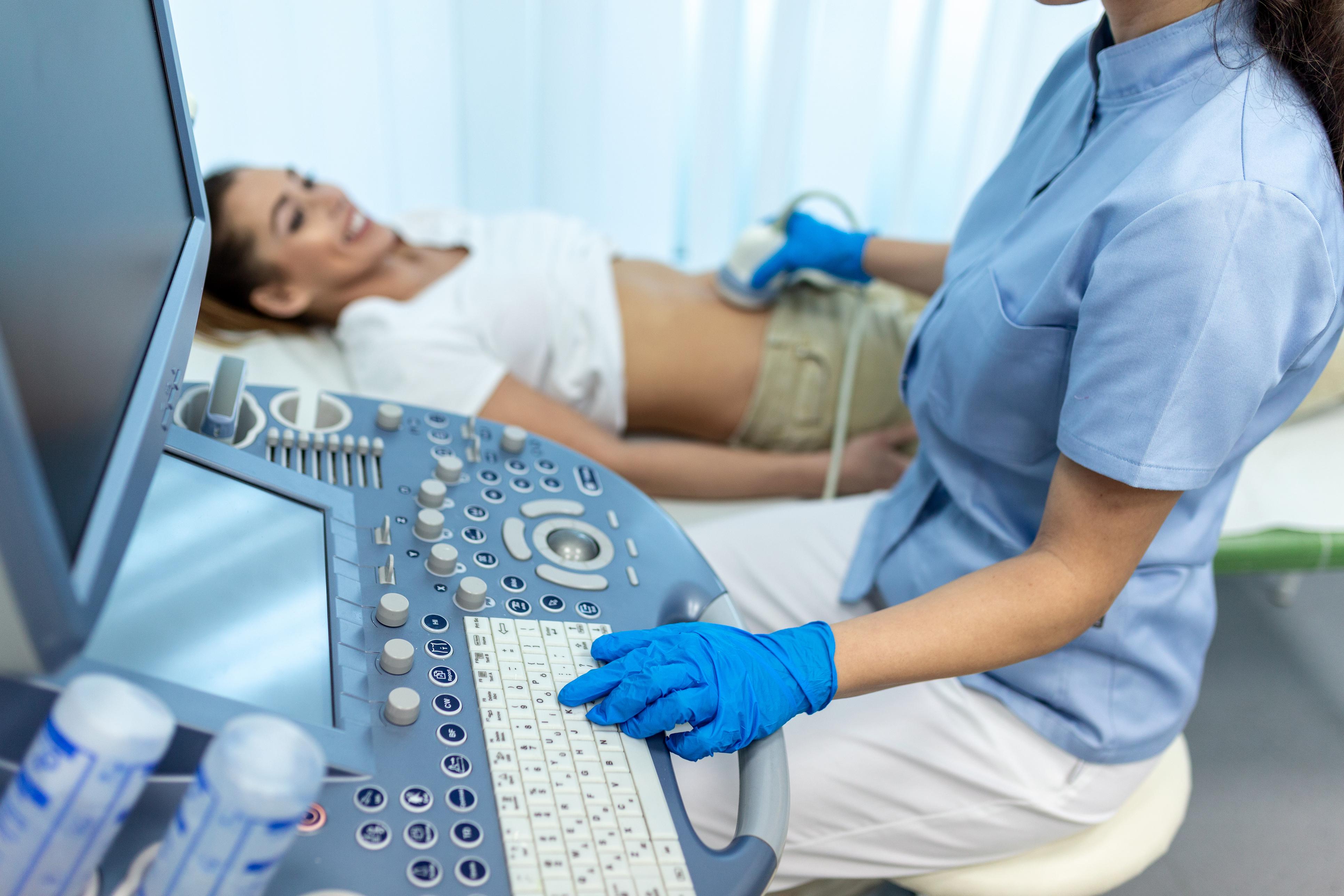 This course will give you the skills and knowledge expected from a graduate sonographer, allowing you to provide quality patient care. You'll learn through a mix of academic and practical activities over three years, with several key areas explored during that time.
Your studies will give you an in-depth knowledge of anatomy which – when combined with your ultrasound practice – you can use to identify abnormalities in the human body. You'll learn about the physical principles of ultrasound, the role of research in your medical practice and how you can inform what you do with evidence. Clinical placements will offer real-world environments where you can hone your skills.
Since sonographers work with a wide range of people, our course has you learning from a variety of patients and healthcare professionals. When the time comes to find work as a sonographer, we'll support you in making the transition.
Year 1
Your first year of study will introduce you to medical ultrasound, providing you with its most essential skills. These include hand-eye coordination, ultrasound technique and medical ultrasound pattern recognition. You'll also develop an understanding of medical ultrasound's basic physical principles.
Bodyworks Eve® simulations systems, the ScanTrainer® simulation system and other ultrasound equipment will be on hand to help with your training. Teamwork, communication and the principles of patient care will be developed at this time as well.
Year 2
Your second year will build upon your existing skills to further develop your understanding of medical ultrasound. You'll undertake a variety of ultrasound examinations in obstetric and gynaecological contexts, as well as more general medical situations.
Other areas of study include imaging techniques that complement medical ultrasound (like projection radiography, computed tomography and magnetic resonance imaging) and learning how we combine imaging techniques to help us in diagnosis. Your understanding of ultrasound's physical principles and your teamwork, communication and patient care skills will also receive a boost.
Year 3
The third year of the course will explore medical ultrasound's more challenging and specialist aspects. You'll learn how to evaluate and adapt ultrasound technique to help you with diagnosis, and you'll develop a greater degree of independence and professional responsibility. You'll also prepare for graduation and voluntary registration at this point.
Course structure
The list shown below represents typical modules/components studied and may change from time to time. Read more in our terms and conditions.
All modules listed are compulsory and are mapped to the Consortium for the Accreditation of Sonographic Education's (CASE) requirements. All modules must be passed to be eligible for registration with the Register of Clinical Technologists to be able to practice in the UK as a sonographer.
Year 1
Professional Practice in Healthcare ARCS1121 (20 credits) – This inter-professional module seeks to introduce you to the healthcare setting. The module focuses on the role you will have as a healthcare professional, both as an individual and as a member of the team. This will allow you to begin to establish your contribution within the healthcare setting, with a particular focus on patient care.
Introduction to Biological Principles of Healthcare ARCS1150 (20 credits) – This module will cover the underlying principles of biological systems that can be related to profession-specific examples in the ultrasound-specific modules.
Medical Ultrasound Science 1 ARCS1151 (20 credits) – This module covers the fundamental physical processes involved in ultrasound production. You'll receive a wide knowledge base of the scientific principles of medical ultrasound, which connect to how we produce, record and display ultrasound images. You'll also be taught how to use ultrasound technology safely.
Medical Ultrasound Clinical Practice 1 ARCS1152 (20 credits) – This module will show you how to use ultrasound equipment, phantoms and simulation equipment, and examine patients in a clinical setting. It'll also show you how to integrate your theoretical knowledge with practical skills. You'll have opportunity to gain hands-on experience, to practice your ultrasound technique and to put your anatomical knowledge and communication skills to good use. You'll start to develop your teamwork and clinical reasoning skills at this point as well.
Medical Ultrasound communication ARCS1153 (20 credits) – This module will introduce students to concepts associated with the complex communications skills required by sonographers in practice. It'll utilise the INDIRA Consensus (ASCKS) Guidelines on communicating unexpected news via ultrasound and the INDIRA coach method. This will help you to develop important qualities such as resilience and adaptability.
Sono-embryology ARCS1154 (20 credits) – This module introduces students to image interpretation, by teaching you how the fetus and organs develop. It provides the fundamental concepts on which the students will develop their skills in more complex areas throughout the programme, allowing you to develop your knowledge, understanding and analytical skills.
Year 2
Research Methods and Evaluation ARCS2211 (20 credits) At this stage you'll build an understanding of how clinical practice is informed by evidence, and start to gain the knowledge and methods used to appraise both practice and published work. The module will introduce you to the skills you need to carry out research effectively including how to formulate research questions, gather information from a range of sources, make judgements on the quality of data gathered and draw conclusions.
Medical Ultrasound Science 2 ARCS2225 (20 credits) – This module delves into the scientific principles underpinning the production, recording, transmission and display of medical images, and the safe operation of ultrasonic technology. The knowledge gained in this module is a key part of safe clinical practice.
Medical Ultrasound Clinical Practice 2 ARCS2226 (40 credits) – This module delivers 18 weeks of simulated and in-placement practical experience. You'll continue to develop clinical ultrasound and communication skills, as well as developing your teamwork and clinical reasoning skills.
Medical Ultrasound Deductive Reasoning ARCS2227 (20 credits) – The module covers the normal anatomy, physiology and pathology of the body's systems, linked to the ultrasound appearances and their relevance to clinical practice. The module combines anatomy and physiology with cross-sectional imaging, and is intended to reinforce the clinical applications of ultrasound technology
Pathophysiology and genetics ARCS2228 (20 credits) – This module will help you to understand the pathophysiology and genetics and link to the ultrasound appearances. In addition to learning about these fundamental concepts you'll further expand your knowledge, understanding and analytical abilities.
Year 3
Medical Ultrasound Professional Practice 3 ARCS3225 (40 credits) –This module allows you to apply your knowledge and develop your skills for using ultrasound in obstetric, gynaecological and general medical scenarios in clinical practice. You'll be part of a multidisciplinary team within a broader healthcare organisation, and you'll make decisions and be accountable for them. This will help you transition from being a student to being a healthcare professional.
Medical Ultrasound Science 3 ARCS3226 (20 credits) – Here you'll learn specialist ultrasound scientific knowledge, which you will need for use in many different clinical settings. You'll use the knowledge gained here to practice safely in clinical practice.
Sono-pathology ARCS3227 (20 credits) – This module shares theoretical knowledge relating to using ultrasound to detect abnormalities in obstetric, gynaecological and more general medical ultrasound clinical situations. You'll also explore patient management at this time.
Research Project ARCS3213 (40 credits) – In this module you'll carry out one of several different types of research project, such as clinical audit or systematic review, using the research education gained whilst on the course. You may also be able to conduct original research. You'll be given a named supervisor to support you in your efforts.
Learning and teaching
Our teaching methods are designed to accommodate many different learning styles, and include formal lectures, tutorials, student-led seminars, group work and independent learning. Some of these teaching methods work in conjunction with each other, and help you prepare for assessment.
Qualified sonographers make up the core of our teaching team, who use their expertise to enhance your learning. You may also be taught by other clinical professionals and trained postgraduate researchers, and you'll have the chance to work with people from other health professions. Patients and service users can play a role in your studies as well.
On this course you'll be taught by our expert academics, from lecturers through to professors. You may also be taught by industry professionals with years of experience, as well as trained postgraduate researchers, connecting you to some of the brightest minds on campus.
Assessment
We use a range of assessment methods on this course, which provide you with multiple ways to show off your knowledge and skills. Each method is designed to be fair and inclusive, allowing you to demonstrate what you're capable of and take your strengths into account.
In each assessment you'll need to demonstrate the knowledge and application of standard concepts, as well as your emerging skills. You'll also need to show you can conduct independent, in-depth enquiry and demonstrate some creativity. Evaluating and criticising received opinion is another essential skill in this course.
Entry requirements
A-level: BBB including at least one science (Biology, Human Biology, Chemistry, Maths and Physics). Other science based subjects will be considered.
BBB including a science subject (Biology, Human Biology, Chemistry, Maths and Physics). Other science based subjects will be considered.
GCSE: A minimum of 5 GCSEs grade C or above (or 4 or above) required in Maths, English Language, and Science. The School of Medicine recognises that some applicants may have studied a more flexible curriculum, where they have been able to progress through their educational development at an appropriate rate according to their ability. Where a Level 2 (for example, GCSE) or Level 3 (for example, A Level) qualification has been taken 'early' the academic reference should include the reasons for this so that it can be taken into consideration by the admissions team. Please note that we normally expect double-science GCSE. Candidates with only one science GCSE will only be shortlisted if admissions tutors are satisfied the academic profile meets the minimum entry criteria.
Other course specific tests:
Applicants must be 18 years of age or over by the first day of the programme.
You must show evidence of study in the last 5 years.
DBS Checks
As part of the student offer for our clinical programmes, an Enhanced DBS (Disclosure and Barring Service) certificate is required for students to undertake clinical placements as part of their studies within the Faculty of Medicine and Health. The certification process is undertaken on entry to the programme and repeated once every three years whilst they are still undertaking the same programme of study.
The Enhanced DBS certificate can only include background checks for time in the UK. Students who have been resident outside the UK will require a criminal record check from each relevant country
The University of Leeds is obliged to refuse admission to applicants for certain courses, which are regulated by national or statutory bodies, where an Enhanced DBS certificate or International Criminality check reveals prior criminal behaviour giving rise to concern for the protection of the public. Clinical placements cannot be attended by those who fail to comply with the clearance processes.
Occupational Health Clearance
All students will complete a pre-registration screening questionnaire which allows our occupational health team at the University support you to meet your true potential on the programme despite any pre-existing health concerns you may have. It is important that you notify us even if your symptoms are currently under control as we can ensure that you continue to be supported even if you are moving from different areas of the country.
The process also allows our occupational health team to check your immunity requirements so we can ensure that both patients and you are protected and kept safe. This will involve understanding your immunisation record to date.
Further details can be found on https://medicinehealth.leeds.ac.uk/medicine-undergraduate/doc/occupational-health-requirements-students-applicants-faculty-medicine-health
HEOPS offers guidance on occupational health resources and health surveillance.
Alternative qualification
Access to HE Diploma
30 distinctions and 15 merits (both at level 3). This must include a minimum of 15 credits at distinction from science subjects.
We strongly advise you to contact the School to discuss the suitability of your chosen Access course. We consider Access Courses to be suitable for mature applicants (21 plus) who have been out of full-time education and have no previous access to higher education.
BTEC
BTEC Level 3 Extended Diploma (QCF): distinction/distinction/distinction and must contain at least one-third science content at distinction.
Health and Social Care qualifications have insufficient science content and will only be considered with an additional science A level – Biology, Human Biology, Chemistry, Maths and Physics.
Cambridge Pre-U
Three Merits (M1) in 3 Principal Subjects, one of which must be a science.
International Baccalaureate
34 points overall, including 3 higher level subjects at minimum of grade 5, one of which must be a science subject.
Irish Leaving Certificate (higher Level)
AABBBB, including English, Maths and 2 science subjects.
Scottish Highers / Advanced Highers
BB at Advanced Higher level and AABBB at Higher level.
Or
B at Advanced Higher level and AAABB at Higher level.

For applicants without Advanced Highers, we require AABBBB at Higher level.
Each of these options requires 1 science, from Biology, Human Biology, Chemistry, Maths or Physics.
Other Qualifications
Foundation year
Foundation years offered at the University of Leeds requiring a minimum of 60% overall, and no less than 55% in each subject.  Accepted routes at the University of Leeds are;
Interdisciplinary science foundation year (UK students only)
International foundation year (international students only)
Previous degree
Pass in a relevant subject (minimum one third science)
Alternative entry
We're committed to identifying the best possible applicants, regardless of personal circumstances or background.
Access to Leeds is an alternative admissions scheme which accepts applications from individuals who might be from low income households, in the first generation of their immediate family to apply to higher education, or have had their studies disrupted.
Find out more about Access to Leeds and alternative admissions.
Access to Leeds Deadline
In order for us to give your application due consideration, we'll need you to submit your Access to Leeds (A2L) application at the same time as you submit your UCAS application.
Access to Leeds Entry Requirements
GCSEs
A minimum of 5 GCSEs grade C or above (or 4 or above) required in Maths, English Language, and Science.
A Levels
BCC and must still include a science subject to grade B
(Biology, Human Biology, Chemistry, Maths and Physics). Other science based subjects will be considered.
Scottish Highers
CC at Advanced Higher level and AABBB at Higher level.
Or
C at Advanced Higher level and AABBB at Higher Level.
For applicants without Advanced Highers, we require BBBBBB at Higher level.
Each of these options requires 1 science, from Biology, Human Biology, Chemistry, Maths or Physics
Irish Highers (leaving certificate)
Require a minimum of 6 subjects taken at Higher level (not ordinary IO) and must include English language and maths plus 2 sciences from biology, physics or chemistry, grades required are minimum BBBBBB
Cambridge Pre-U
Three Merits (M2) in 3 Principal Subjects, one of which must be a science.
IB
33 points overall, including 2 higher level subjects at minimum of grade 5, one of which must be a science subject.
BTEC
DDM but at least one-third science at distinction)
Health and Social Care qualifications have insufficient science content and will only be considered with an additional science A level – biology, human biology, chemistry, maths and physics.
English language requirements
IELTS 7.0 overall, with no less than 6.5 in any area.
Fees
UK: £ 9,250 (per year)
International: £ 30,250 (per year)
Additional cost information
Currently, students on this course are not eligible for the NHS Learning Support Fund. Students are expected to cover any costs associated with travel and accommodation when undergoing work placements, including placements situated outside of the Leeds area that may require additional accommodation and travel arrangements.
There may be additional costs related to your course or programme of study, or related to being a student at the University of Leeds. Read more on our living costs and budgeting page.
Scholarships and financial support
Applying
Apply to this course through UCAS. Check the deadline for applications on the UCAS website.
Values based recruitment is carried out across our vocational programmes. Candidates who apply to more than one vocational course in the School of Medicine will only be considered for one course. Please note that if a candidate demonstrates motivation and insight for another non-School of Medicine vocational course (e.g. nursing or dentistry) they will be rejected without further consideration.
Where possible, candidates who apply for multiple programmes within the School of Medicine will be informed that they must choose one course only.
The School of Medicine does not normally participate in the UCAS Extra scheme for entry onto the Medical Ultrasound (Sonography) BSc degree course. You must tell us in your UCAS application if you want to defer entry and if you have any prior criminal convictions.
Please see the latest School of Medicine Admissions Appeals and Complaints Procedure.
Selection
We shortlist applicants against agreed criteria, using the information you submit on your UCAS form only. You must meet the academic entry requirement for the programme, at application or within the academic cycle. Your academic background and personal statement help us to assess your interest in the academic subject and are an important part of the process. The reference you provide on the UCAS form must also support your application.
Evidence of care experience or placement is essential, specifically work experience in an ultrasound department is highly desirable.
Interviews
Shortlisted applicants will be invited to a face to face interview in the School of Medicine. Using a multiple mini interview format, we will further assess applicants' non-academic qualities and your interest in the course. All interviews for home applicants will take place face to face.
There are currently six interview stations and the format of stations varies. A single interviewer will award marks for each station according to a pre-determined standardised scale.
If shortlisted, candidates will receive a written invitation from the School to attend a selection event on a specific time and date. If this date is unsuitable, contact the School and where possible we'll offer an alternative date. Candidates who don't notify us and don't attend a selection event will be rejected.
Offers are made on the basis of merit and the decision to make an offer after interview depends entirely on performance at mini-interview, not on predicted or achieved academic performance, or other scores.
Unfortunately, because of the nature and volume of applications and interviews, we are unable to provide specific individual feedback.
Admissions policy
School of Medicine undergraduate admissions policy 2024
Contact us
Ultrasound Undergraduate Admissions
Email: healthcarescienceadmissions@leeds.ac.uk
Telephone:
Career opportunities
Medical ultrasound/sonography is a fast-moving, evolving profession with excellent long-term career opportunities. You can apply for sonographer posts in the NHS or private practice, although there may also be job opportunities in research, management and teaching.
If you wish to continue your studies, you may undertake postgraduate study. This will help you specialise in more advanced techniques and become an enhanced, advanced or a consultant sonographer in the future.
Sonography is currently a postgraduate profession, which means that many sonographers are registed as radiographers with the Health and Care Professions Council (HPCP) (given their original training is in Radiography). Graduates from our undergraduate Medical Ultrasound (Sonography) programme will not be eligible for HCPC registration but will be able to register as a sonographer with the Register of Clinical Technologists (RCT). Please not that some employers may not be willing to employ graduates without HCPC registration.
Careers support
We encourage you to prepare for your career from day one. That's one of the reasons Leeds graduates are so sought after by employers.
Leeds for Life is our unique approach to helping you make the most of University by supporting your academic and personal development. Find out more at the Leeds for Life website.
The Careers Centre and staff in your faculty provide a range of help and advice to help you plan your career and make well-informed decisions along the way, even after you graduate. Find out more about Careers support.
Study abroad and work placements
Students on this course will undertake clinical placements throughout it; each one provides excellent, supportive learning environments that provide you with necessary skills and experience.
We have established relationships with several Trusts within the Yorkshire and Humber region, including local acute and regional general hospitals . Each one provides outstanding clinical placements, with expert, clinically active staff acting as mentors. They'll ensure your placement is evidence-based and provide ongoing student support. However, we cannot guarantee you'll be placed at a particular site during your training.